Founder of Shingijutsu and Pioneer of Lean Manufacturing – Mr. Chihiro Nakao – Visits PeopleFlo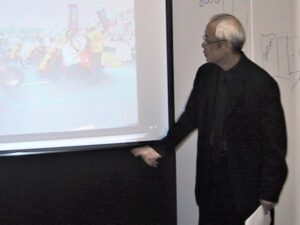 PeopleFlo Manufacturing Inc. announced today that Mr. Chihiro Nakao, former Toyota group manager and founder of the "lean" manufacturing firm Shingijutsu Co., visited
PeopleFlo to share insights on state-of-the-art manufacturing and to reinforce their strategic partnership. "We are thrilled and honored to host one of the most renowned pioneers of lean manufacturing and someone who has worked directly for Taiichi Ohno and Shineo Shingo," said Radosav Trninich, Vice President of Manufacturing at PeopleFlo. "Mr. Nakao's visit was inspiring. He relentlessly challenged us."
About Mr. Chihiro Nakao and Shingijutsu Co.
Mr. Chohiro Nakao is the founder of Shingijutsu, a world-renowned manufacturing consulting group formed by members of the original Toyota Autonomous Study Group. This study group, lead by Taichi Ohno, is credited with originating and developing the
Toyota Production System. Shingijutsu consults with companies to transform their manufacturing processes to increase efficiencies and improve financial performance. Shingijutsu's clients include GE, Boeing, Porsche and United Technologies
About PeopleFlo Manufacturing, Inc.
PeopleFlo Manufacturing is revolutionizing how chemical, petrochemical and food processing companies pump the most demanding fluids. Through a dramatic combination of technological and ecological innovation, PeopleFlo has developed products and services to help customers lower maintenance costs and set new standards for environmental protection. We call it combined innovation.
.
.