PeopleFlo and Leading Lean Manufacturing Consultant Shingijutsu Develop Production Scheduling System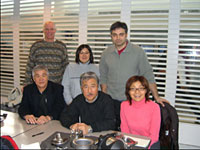 PeopleFlo Manufacturing Inc. and Shingujutsu Co. met to develop a "heijunka" style production scheduling system designed to meet customer delivery commitments while leveling the production workload.
Heijunka is a Japanese term for a visual method to smooth out demand for production for a specific interval of time. In addition to leveling workloads, PeopleFlo's heijunka system will be used to control the sequence of mixed models to be produced in a production period.
Shingijutsu President, Mr. Toshihiro Nagamatsu, led the scheduling workshop with support from Shingijutsu consultant, Mr. Hara, and associate, Ms. Suzuki. "We have an exciting concept for a new scheduling system tailored to our unique production processes," said Radosav Trninich, Vice President of Manufacturing at PeopleFlo.  "We look forward to rapid implementation."
About Shingijutsu Co.
Shingijutsu is a world-renowned manufacturing consulting group formed by members of the original Toyota Autonomous Study Group. This study group, lead by Taichi Ohno, is credited with originating and developing the Toyota Production System. Shingijutsu consults with companies to transform their manufacturing processes to increase efficiencies and improve financial performance. Shingijutsu's clients include GE, Boeing, Porshe and United Technologies.
About PeopleFlo Manufacturing, Inc.
PeopleFlo Manufacturing is revolutionizing how chemical, petrochemical and food processing companies pump the most demanding fluids. Through a dramatic combination of technological and ecological innovation, PeopleFlo has developed products and services to help customers lower maintenance costs and set new standards for environmental protection. We call it combined innovation.