PeopleFlo Manufacturing Awarded United States Patent For EnviroGear Magnetically Driven Gear Pump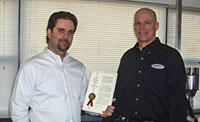 The United States Patent and Trademark Office has granted PeopleFlo Manufacturing patent protection for its EnviroGear magnetically driven gear pump. Specifically, the patent excludes others from copying aspects of PeopleFlo's EnviroGear pump design that incorporates an eccentric stationary spindle. This design feature enables "between-the-bearing" support of the pumping elements and allows for a simple, compact design.
"We're delighted to receive a US Patent for our EnviroGear pump," said Clark Shafer Vice President of Customer Services at PeopleFlo.  "It's a solid patent based on a genuinely novel design."
About PeopleFlo Manufacturing, Inc.
PeopleFlo Manufacturing is revolutionizing how chemical, petrochemical and food processing companies pump the most demanding fluids. Through a dramatic combination of technological and ecological innovation, PeopleFlo has developed products and services to help customers lower maintenance costs and set new standards for environmental protection. We call it combined innovation.