Our Purpose
The Reason We Exist
PeopleFlo is committed to revolutionizing fluid technology through pump digitalization, engineering design and innovation.
We have the potential and responsibility to transform pump performance in a way that lowers both life-cycle cost for end users and carbon dioxide emissions for our planet.
The Pump Energy Waste Imperative
Digital technologies have the potential to make great advances in addressing the pump energy waste problem. Pump systems are ubiquitous and exceptionally energy intensive. Surprisingly, pumps account for an estimated 7%, or 1,700 TWh, of the world's total annual electrical energy consumption. Equally surprising is the fact that most pumps are operated inefficiently, wasting about 40%, or 680 TWh, of their total annual energy consumption. Energy waste, at a cost of $.06 per KWh, costs industry a massive $41 billion USD per year. From a greenhouse gas perspective, this yearly electrical energy waste is equivalent to 480 million metric tons of carbon dioxide. 
People
In the early stages of our start-up, we were asked, "How can you start a new industrial pump company, aimed at making competitive products for global markets, in a high-wage area like Chicago, USA? What's your advantage?" To us, the answer was clear. It's the people behind the products that make all the difference through innovation, problem solving, and implementation of solutions. This is why we decided to name our company PeopleFlo.
Humility
We believe humility doesn't imply weakness, but rather strength. In order to make breakthroughs in engineered products, one must have the self-confidence to recognize, without feeling threatened, that there is always more to learn. Humility is our fuel, driving intense collaboration, vigorous research and deep exploration for new ideas.
Holistic Mindset
We believe that solutions to the most challenging pump problems are systemic and require a holistic mindset. Therefore, we continually strive to more thoroughly understand pump problems and search for solutions in the context of the overall pump system (motor, pump, seal and control valve) and the application control loop or process unit.
Sustainability
We believe that PeopleFlo is uniquely positioned to make important contributions to global sustainability. Therefore, it is our responsibility to push the boundaries on pump energy efficiency by developing solutions that both lower life-cycle cost for end users, and contribute to environmental protection of our planet.
Collaboration
We believe that collaboration is what enables us to unlock solutions to complex problems because no individual possesses all of the knowledge or resources necessary for high-impact innovation.
Therefore, we work hard to collaborate with a network of board members, investors, partners and advisors.
Lean systems
We believe in the importance of "lean" philosophies and tools to complement and fortify the innovation process when creating new solutions for highly engineered products. Lean-based problem solving, rapid learning cycles, bias for action, desire for simplicity, visual management and the importance of setting big challenges drive the hardware and software innovation process in valuable ways.
Our Journey
PeopleFlo 1.0
PeopleFlo was founded in 2004 to design and manufacture EnviroGear®, a new line of zero-leak pumps for customers in the chemical market. PeopleFlo's initial strategy was based on a conviction: a holistic approach to product development, built by combining an innovative product design with a cutting-edge "lean" production system, would create unprecedented value. As a result, PeopleFlo set out to develop a new industrial pump concurrently with a new production system to create a fully integrated product line. The objective was not only to create superior value but also to demonstrate a new manufacturing model for a sustainable competitive advantage.
By 2010, PeopleFlo's business model demonstrated outstanding potential. Leading EnviroGear customers such as DuPont, PPG, Cargill, Ashland, Chevron and ADM confirmed EnviroGear's value proposition. PeopleFlo's proprietary one-product-flow production system demonstrated the ability to cut production costs incurred by competitors by nearly 50%. Delivery lead times were dropped from an industry average of 40 days to under 10 days. Gross margins topped 50% and operating income reached 35%. However, building a new pump company was all-consuming and left no time for our true passion, innovation. We identified new pump problems to solve, and found compelling ideas building up on the sidelines, but no time to pursue these innovative solutions. In 2011, PeopleFlo announced the sale of the EnviroGear product line and related manufacturing assets to Dover Corporation. In addition, Dover licensed PeopleFlo's one-product-flow production system for use in manufacturing the EnviroGear product line.
PeopleFlo 2.0
In 2012 PeopleFlo transitioned from a pump manufacturer to an engineering design and innovation company, focused on helping pump OEM's increase organic growth through product and process innovation. We turned our 10,000 square foot facility into a pump innovation lab with dedicated project "hot spots", built a prototype shop with state-of-the-art CNC machines, and set up pump test stands.
We began our journey to develop the best innovation system for the pump and fluid technology industry. Through research and experience, we built on the foundational creativity that resulted in the EnviroGear product and process innovations to develop a new series of sealless positive and centrifugal pump innovations that utilized rare-earth magnetic couplings to solve reliability, energy consumption and initial cost problems.
In 2017, we began to research pump digitalization opportunities for asset management. Over the next 12 months we asked: could pump digitalization solve important problems? Is it just for critical pumps? What are the barriers that prevent mainstream adoption? Are solutions scalable? Are end users satisfied with initial results?
We were struck by a realization: it was counterproductive to monitor and predict pump performance without first addressing the root cause of most pump reliability problems – pumps are routinely operated outside their intended design envelope. This unstable, off-design operating condition not only causes unnecessary premature pump failures but it also wastes a tremendous amount of energy. We recognized exciting opportunities to use pump digitalization and A.I. tools to stabilize and optimize baseline pump performance in order to provide a firm foundation for predictive pump analytics.
PeopleFlo 3.0
In 2018, we shifted our focus and core offering to pump digitalization hardware and software designed to transform pump performance, from lower life-cycle cost for end users to greater environmental protection for our planet. We are working hard to bring intelligence to pump systems through digitalization, engineering design and innovation.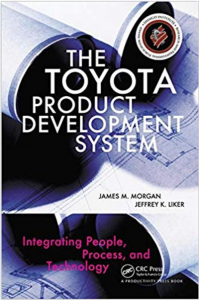 PeopleFlo featured in Jeffry Liker's
The Toyota Product Development System
James Morgan and Jeffrey Liker, 2006
The appendix, entitled Applying Value Stream Mapping to a Product Development Process: The PeopleFlo Manufacturing Inc. Case, highlights PeopleFlo's innovative use of the value stream mapping tool to manage and improve the product development process.