PeopleFlo Manufacturing Awarded 3rd US Patent For EnviroGear Pump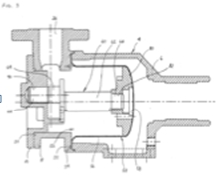 The United States Patent and Trademark Office has granted PeopleFlo Manufacturing a third patent for its EnviroGear magnetically driven gear pump.
This patent protects a unique design that enables pre-stressing the magnetic coupling canister upon assembly. This unique design lengthens the fatigue life of the canister while minimizing canister wall thickness to minimize eddy current heat generation.
"This patent helps to lower energy loss which improves energy efficiency," said Clark Shafer, Vice President of PeopleFlo. "It also helps keep the fluid temperature low in the magnet chamber."
About PeopleFlo Manufacturing, Inc.
PeopleFlo is a manufacturing-based products and services company. Founded in 2004, PeopleFlo puts manufacturing innovation to work by creating solutions to reduce operating costs, protect the environment and improve energy efficiency.