PeopleFlo Introduces the EnviroBase Series of Pump Baseplate Systems to Improve Reliability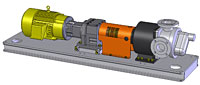 PeopleFlo Manufacturing introduced the EnviroBase Series of pump baseplate systems to help customers in the chemical, petrochemical and food processing markets improve pump reliability.
Designed in collaboration with leading customers, the EnviroBase pump baseplate series incorporates rigid steel construction to protect against vibration and reliability features not commonly found on industrial pump baseplates. "Pump reliability involves much more that a robust pump design," said Jason Sexton, Vice President of Product Development at PeopleFlo." "A rigid, high-quality baseplate, properly installed, ensures maximum reliability over the long term."
The EnviroBase HD Series baseplate is constructed with a heavy duty c-channel frame that forms three bulkheads and supports a ½" thick top plate continuously welded to the frame. This top plate is ground to a flatness specification of .002 inches (.05 millimeters) per foot. Standard features include:
EnviroBase coupling guard with vibration sensor ports and slots arranged for ease of thermographic and/or stroboscopic light monitoring
SEW Eurodrive gear speed reducing unit with adjusting screws for easy alignment with the pump shaft.
Baldor Premium efficiency C-face mounted motor with standardized rabbetted fit that requires no alignment
About PeopleFlo Manufacturing, Inc.
PeopleFlo Manufacturing is revolutionizing how chemical, petrochemical and food processing companies pump the most demanding fluids. Through a dramatic combination of technological and ecological innovation, PeopleFlo has developed products and services to help customers lower maintenance costs and set new standards for environmental protection. We call it combined innovation.