PeopleFlo Manufacturing Launches New Web Site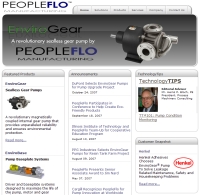 PeopleFlo Manufacturing announced today that it has launched a new web site, www.peopleflo.com, designed to provide customers in the chemical, petrochemical and food processing markets with information about PeopleFlo's solutions, products, services and company.
In a breakthrough from traditional industrial machinery web sites, the PeopleFlo team has created a simple, clean, and professional design rich with a wide array of flash animations designed to bring content to life.
PeopleFlo intends to develop additional content and tools to help customers improve pump system reliability and lower maintenances costs and eliminate environmental costs. One of the highlights will be PeopleFlo Connect, a web-based tool to enable online pump sizing, configuration, pricing and drawing generation.
About PeopleFlo Manufacturing, Inc.
PeopleFlo Manufacturing is revolutionizing how chemical, petrochemical and food processing companies pump the most demanding fluids. Through a dramatic combination of technological and ecological innovation, PeopleFlo has developed products and services to help customers lower maintenance costs and set new standards for environmental protection. We call it combined innovation.