Leading Lean Manufacturing Consultant, Shingijutsu, Visits PeopleFlo For a Factory Tour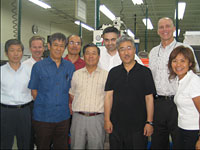 PeopleFlo Manufacturing Inc. announced today that five senior consultants from Shingujutsu, a world leader in lean manufacturing, visited PeopleFlo for a factory tour. "We have been working closely with Shingijutsu for several years now to develop a state-of-the-art manufacturing system," said William Blankemeier, President of PeopleFlo. "It was an honor to share our progress with some of the best "lean" consultants in the world. The new ideas we received for improvement were a big bonus."
After the factory tour, each Shingijutsu consultant presented their observations to the PeopleFlo team and included suggestions for improvement. Mr. Nagamatsu's thoughts on simplicity stood out. He warned that keeping things simple is hard work but it is very important. "Humans have a hard time keeping it simple," said Mr. Nagamatsu. "It's not difficult to make it difficult but it's not easy to make it easy."
About Shingijutsu Co.
Shingijutsu is a world-renowned manufacturing consulting group formed by members of the original Toyota Autonomous Study Group. This study group, lead by Taichi Ohno, is credited with originating and developing the Toyota Production System. Shingijutsu consults with companies to transform their manufacturing processes to increase efficiencies and improve financial performance. Shingijutsu's clients include GE, Boeing, Porshe and United Technologies.
About PeopleFlo Manufacturing, Inc.
PeopleFlo Manufacturing is revolutionizing how chemical, petrochemical and food processing companies pump the most demanding fluids. Through a dramatic combination of technological and ecological innovation, PeopleFlo has developed products and services to help customers lower maintenance costs and set new standards for environmental protection. We call it combined innovation.